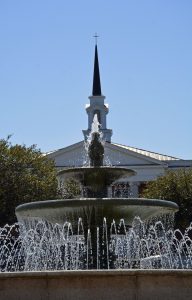 Mission Statement
"Building a community of faith that glorifies God and reflects Jesus Christ."
Our Vision
Our common vision is being realized as we are faithful to our God-given mission of:
Worship – Exalting God
Discipleship – Forming Believers
Fellowship – Nurturing Community
Ministry – Serving Humanity
Mission/Evangelism – Sharing the Good News about Jesus Christ
What We Believe

God has revealed himself to us in three persons (trinity): God the Father, God the Son, God the Holy Spirit.
Jesus Christ, God's Son, was both fully divine and fully human.
Salvation is by grace through faith in Jesus Christ.
The Bible is the word of God and is our authority for faith and works.
All believers are priests (ministers) before God, competent to interpret scripture and perform acts of ministry under guidance of the Holy Spirit.
Baptism is for believers only.
Each church is autonomous and self governing.
Mission works are cooperative efforts amongst a community of believers.
The State and Church should be separate in their function, but Christians should be involved in government and society. First Baptist Church partners with other churches, conventions, associations, and non-profits when appropriate.