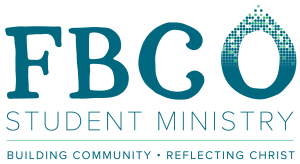 We have a thriving Student Ministry at FBC Orangeburg.  Our teenagers are always busy doing something.  We try to balance growing spiritually with having a great time.  Because of this we have a full schedule of fun events and missions opportunities. Our weekly meeting times can be found below.
Sunday Morning:
Sunday School: Each Sunday morning, the FBCO Students will meet at the downtown campus for Bible Study. The Bible study will be taught by adult volunteers. High Schoolers and Middle Schoolers will meet separately during this time. Sunday School takes place on the third floor of the McClain building at 10am in our brand new Student Ministry space.
Sunday Evening (LOCATION: FAMILY LIFE CENTER):
Each Sunday evening, the FBCO Students will meet together at the Family Life Center.
    Youth Group Activities: 5:45p-7:00pm
At the beginning of each week, the FBCO Students will meet at the Family Life Center for "community" focused activities. There will be team building games, hang out time, and a short devotion.
Wednesday Evening (LOCATION: DOWNTOWN CAMPUS):
Wednesday nights is where much of the discipleship will happen. Middle School and High School students will meet together for Bible Study and discussion as well as some fun and games! Youth room will open at 5:30pm and Youth Activities from 6:00pm to 7:00pm.